Whether you are visiting San Francisco for a short stay or planning for a permanent residency, there is no better location than the famous Fisherman's Wharf area fronting San Francisco Bay. At the heart of this premiere location of multi-million dollar houses, great tourist attractions, exciting night life, and picture perfect views, is the incomparable Pier 39 complex. An integral part of Pier 39 is the Marina.
Diversified Real Estate Services has been privileged to offer professional representation for some of Pier 39's best 50' slips at the Marina. Each slip is 50'x18.5' with dual finger piers. Rather than to try to explain all the features the Marina at Pier 39 has to offer, we direct your attention to the Pier 39 Marina web site for complete details.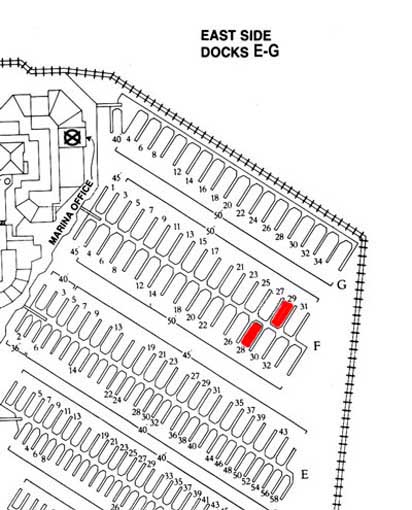 We currently manage two slips on the F Dock; F28, & F29. These slips are located near the end of the main dock for easy access to the main boating channel and far enough away from the Pier 39 commercial activity to minimize noise and striking distance from unruly patrons. The views from these slips are some of the best in all of the San Francisco Bay area. Imagine not only having a view of San Francisco Bay similar to that of homes on the hill, but also a unique view of the San Francisco skyline that the homeowners can only envy. Being near the end of the dock also minimizes the amount of internal marina traffic that affects our slips. With the recent dredging operations completed, all slips have a clear draft at 10' mean low tide.
When it comes to value, you can't beat the price for our F Dock slips at Pier 39. When available, we offer short term rentals, defined as durations between three and six months in length, for the F slips at $800 per month with a 5% discount for prepayments longer than three months. Our long term rate for the F slips is based on a six month initial rental rate of $530 per month, which includes the mandatory payment of condo fees and San Francisco City personal property taxes. Both short term and long term rates do not include electricity which is billed separately and collected in advance in an escrow account. Water, garbage, sewage disposal are included in the standard rates. Compare our rates for a 50' slip with all the amenities that we offer, with any other slip in the San Francisco Bay area and we are certain that you will agree that this is a tremendous value.

You can pay more for a 50' slip, but you can't get a better location!
Because we offer some of the best slips in the San Francisco Bay area at a fair price, we often have long term tenants who seldom leave. When circumstances arise that a vacancy does become available, we can sometimes find an interested party from our waiting list who remains interested in procuring the slip from us. However, don't be discouraged since situations are constantly changing and you may be fortunate enough to have timed a vacancy with your availability, a combination that often works for us and for you.
We would be happy to provide you a copy of our rental application if you are interested in renting one of our 50' slips. Prior to occupancy, the Harbormaster requires a fully endorsed rental agreement between us, a photo of your boat, a copy of proof of registration in applicant's name, a marina tenant information form, a pet agreement, a non-liveaboard agreement, and $500,000 of liability boat insurance with additionally named insureds. Upon receipt of the marina required documentation along with a deposit check for initial expenses we will authorize your occupancy of our slip. As one of our tenants, you may obtain a Parking ID card which entitles you to a substantial discount on parking fees in the Pier 39 parking garage. Short term, 15 minutes or so, loading and unloading are allowed on the perimeter drive for Pier 39; however, parking fines are substantial. Gate keys are issued and managed by the Harbormaster.
Please let us know by e-mail of your desires and we will gladly try our best to accommodate your needs as quickly as possible. Depending upon your situation, we can generally tailor a rental or sale program that will be mutually satisfactory between us.
We look forward to welcoming you as one of the satisfied tenants in our rental program.